Save-on-crafts.com

I've always been a little crafty. The earliest crafting I can remember is cutting out shapes from the big book of construction paper at my Grama's house. Looking at all those beautiful colors, so bright and clean and they were all mine. I could do whatever I wanted with all those soft, but slightly textured sheets. I remember cutting out houses and trees and people and taping them to her front window. Something I never would have been allowed to do at home. Another crafting memory was my first summer at Church Camp (Camp Burton, Ohio). They actually had arts & crafts classes, oh it was almost heaven (no pun intended)!
As an adult, I've tried my hand at sewing, crocheting, knitting, painting, jewelry making, candlemaking, deco podge, and numerous other things - all which eventually became just another clearly labeled box on the shelf in my basement. As I mentioned in my first blog, I have found a new love...Pinterest. After just a few short days of pinning, I reviewed my boards and discovered I have a glass addiction! A majority of my craft pins include jars and bottles of various shapes and sizes. There are mason jars (which are more difficult to find than I ever imagined), wine bottles, mayonnaise jars, relish jars and on and on. You can paint them, salt them, cut them, burn them (really just a form of cutting), modge podge them, wrap them in burlap, add beaded wires, and use them to display something special.
The delicious looking picture above was a beautiful glass purchase that I made a couple years ago. I love the look of these bell jars. They make any dessert look special. I found them at save-on-crafts.com and they come in a set of 3 for $20. Their website has so many beautiful glass items and creative ideas - a great resource for wedding ideas.
Some of my other glass pins are shown below. I hope you each find something that you enjoy - even if no one else understands.

Craftsbyamanda.com - Epsom Salt Luminaries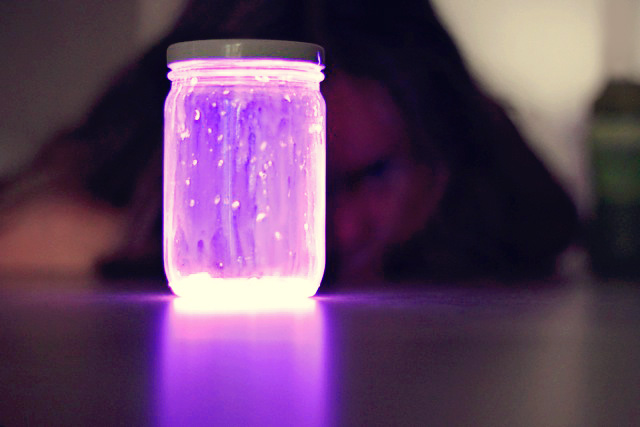 Littleblueboo.com - Glowstick Nightlight